Sunil Munshi has been acknowledged for his stylized and very visual productions, that have won great success on the theatrical stages. He claims he desires to back bind the whole script, the stage itself and the actors only to bring forth the most essential; the very core of the play. Although right thereafter he is after to make the actors break free, to urge them to wrangle themselves out of the strictly stylized conditions and space. The stage room, also created by Sunil, often becomes a desolate scene, a laboratory for an existentialist battalion, a rite where the spectator gets to witness the solitary struggles and survival strategies of human being.
An inner chaos versus a seemingly perfect surface is a concept that fascinates Sunil in his stagings; time and time again they dissect what it means to be human.
The integrity and wholeness of a production is important to Sunil, who gladly creates entire concepts. Everything from the show posters, the scenography, costume sketches, lighting design and music springs out of his particular sense of esthetics and its expression. He finds much inspiration from the catwalks of Paris, from Helmut Newton, Terry Richardson and the fashion photography of Ellen von Unwerth. Also, the rock 'n' roll scene with its explosive energetic expression and blinding lights is something that lights a fire and is oftentimes brought into his productions. During the 00s Sunil gave out two albums and toured Sweden and the US among other places with his band -SISSY PROZAC- in which he sang and wrote the music for. This has influenced his later stage shows with suggestive light- and sound installations and the quite tangible feeling of being at a concert. Music is still an essential component of his creative process and is to be refound throughout all of his productions. Oftentimes Sunil even custom writes tunes and musical numbers for the show he is working on, which Jesper Hörberg later does the music production on. (read more under MUSIC)
When it comes to costumes, Sunil has had a close and successful collaboration with Camilla Thulin in production after production. "Thulin has a sense of style combined with vast knowledge. She has the ability to realize even the loftiest of my visions thanks to her rock solid base of being a highly skilled craftsman."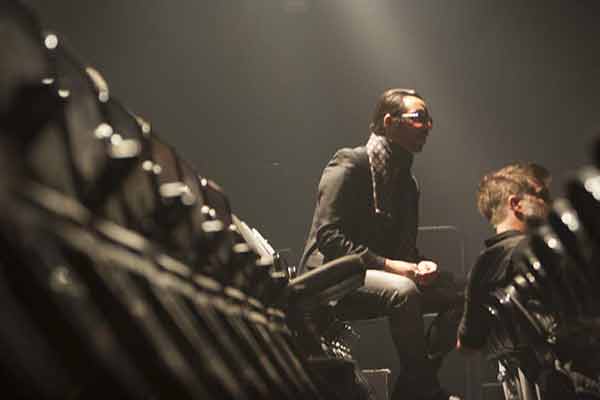 In action!