Premiering 21st of October at Teater Galeasen!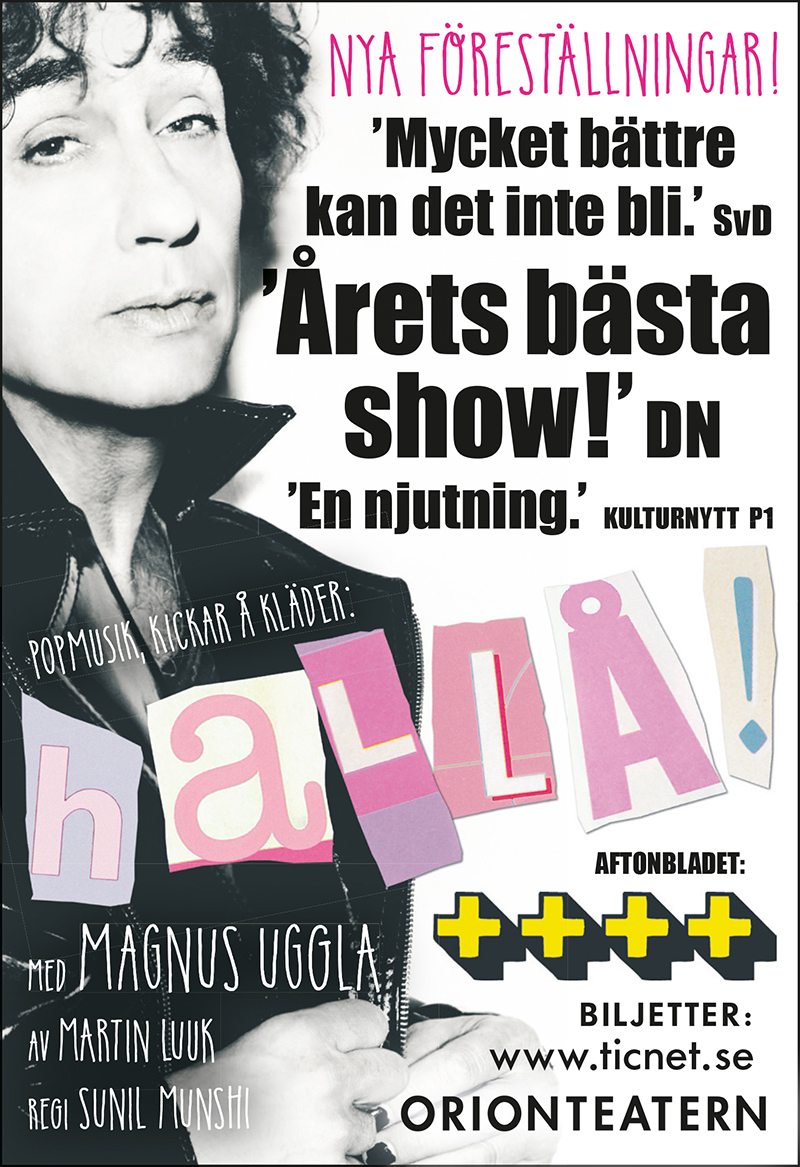 Pop music, kicks, and clothes -A monologue
"Magnus Uggla was my first punk. My first rebellion. His 70's records got me to reach out of the conformity, away from the fatiguing boredom, up and away towards ecstasy. That he was androgynous, wearing make up and had the most arrogant singing style I had ever heard just made the rebellion complete. Then we parted ways, Magnus and I. But he has always stuck by me, that Magnus. I have always wondered who that dude was and I wanted to create a thread from that yesterday and see what has become of him. I also wanted to experience a more intimate version of Magnus. See him fully up close. Without masks, without sunglasses, telling his story without distancing himself. I wanted to hear hims perform the old songs, stipped down into a simplicity and purity. Magnus has now given me all this. He has been incredibly generous in telling me his life story and giving me access to his closest circle from that time, even when they didn't only have good things to say. In many ways this has been a dream project. As I have come to understand it he is a moody man who can flake and quit on projects he feels uncomfortable with. I hope that this project will reach the finish line so that you get to see him at Galeasen this fall just the way I have had the chance to see him. Just the way I remember him. Absolutely fantastic".
Martin Luuk, August 2015

The performance will be directed by Sunil Munshi, recently known for I Don't Want to Die, I Just Don't Want to Live by Ann Heberlein at the Royal Dramatic Theatre.
The best show of the year!
DN
Truly delightful!
P1

Script by Martin Luuk
Directed by Sunil Munshi
Lighting Design by Tobias Hallgren
Sound Design by Jan Apelholm
Assistant Director: Nikolina Samuelsson
Musicians: Rickard Nilsson, Annika Granlund, Ander Nygårds
Photography: Ellinor Koda
Designer: Lars Sundh
Project Manager: Lisa Öhman
Producer: My Blomgren

BOOK TICKETS