Almost no plot but 100kg love.
Anton Chekhov desribes The Seagull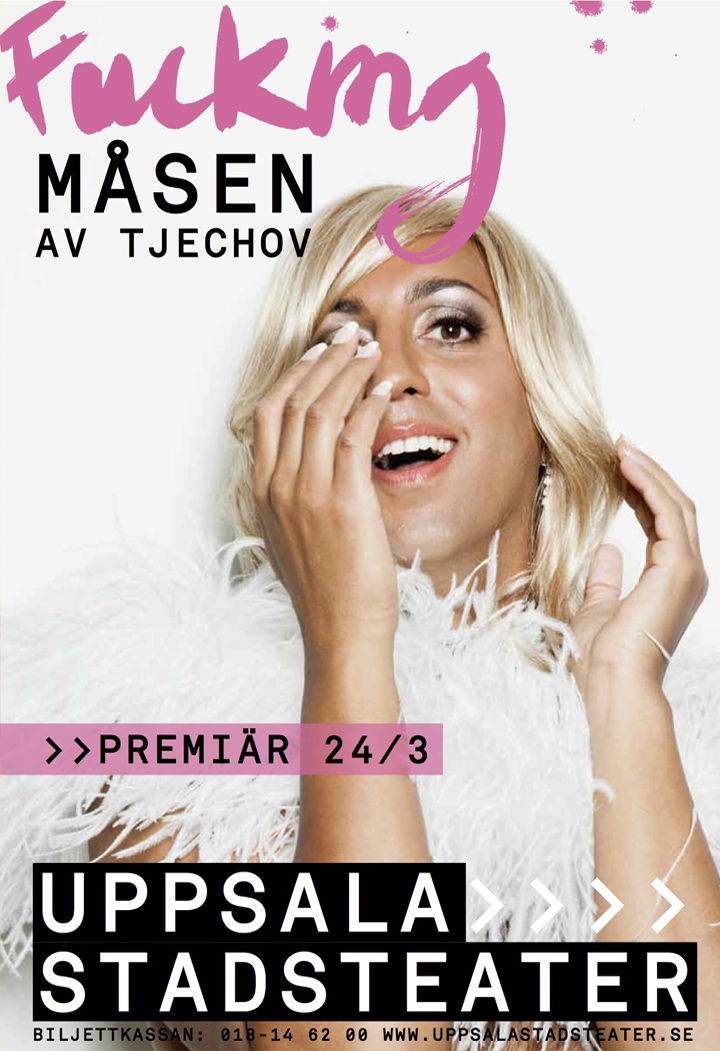 By Chekhov
Premiere: Mars 24, 2012 at Uppsala stadsteater
Performed by: Mathias Olsson, Malin Morgan, Monica Stenbeck, Claire Wikholm, Claes Ljungmark, Mattias Lech, Rafael Edholm, Miriam Forsberg
Adaptation: Sunil Munshi
Director: Sunil Munshi
Set Design: Sunil Munshi
Costumes: Camilla Thulin
Lighting Design: Roger Larsson
Hair & Makeup: Anna Lilja
Music: Sunil Munshi/Jesper Hörberg
A very notable show.
Mathias Olsson does his best role so far as Constantin.
a biting dark comedy
Nils Schwartz Expressen
Claire Wikholm's Sorin is the desire of the flesh and the incurable solitude of the soul personified.
Indeed Sunil Munshi dissects The Seagull with skilled theatrical surgery.
Nice conditions for a theatre of actors. This will get them far..
Ylva Lagercrantz Spindler SvD
Grabs hold of and moves you
A notable production.
Bo-Ingvar Kollberg Cora
The human beings become real, they grab hold of you…a depth and a darkness in the show.
Really f***in sweet.
Rafael Edholm, with his Greek god-like looks and air of silly self-importance, is made to play Trigorin.
Mattias Lech's portrayal (Masha), full of withheld passion, is after all among the most memorable of the play.
This queer little twist is the most successful of this modern adaptation..
John Sjögren UNT
SUNIL MUNSHI TALKS ABOUT THE SCENOGRAPHY
I dreamed up a ceiling out of brass that reflected the actors in some kind of sensation of hybris. The lights beamed up towards the slick mirrored gold ceiling and created a magical light..