I want to show people who are absolutely desperate, who no longer have any other way to reach anybody but through sex; a sex whereafter nothing has changed.
SUNIL MUNSHI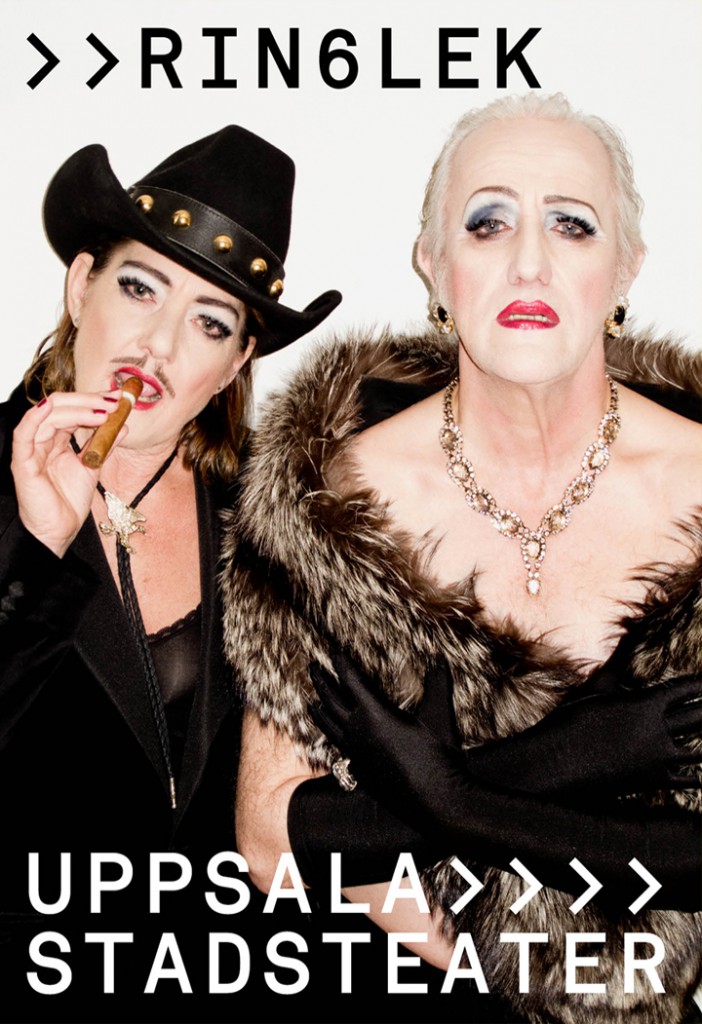 Written by Arthur Schnitzler
Premiere: September 26, 2014 at Uppsala Stadsteater
Performed by: Tytte Jonsson, Göran Engman
Adaptation: Sunil Munshi
Director: Sunil Munshi
Set Design/Costumes: Sunil Munshi
Lighting Design: Jonas Nyström
Hair & Make Up: Per Åleskog
Music: Jesper Hörberg
seductive and elegant
Svd
…well-played, intimate and stylized..
SR Uppland
Minimalism and perfection…A 10 out of 10
Radio Fyris
You recognize Munshi's characteristic style: a simple and modest scenic landscape, a very effective and nice looking way to use light
UNT
SUNIL MUNSHI TALKS ABOUT THE SCENOGRAPHY
Uppsala City Theatre (UCT): How did you invent the visual aesthetics for Rin6lek?

Sunil Munshi: For me the entire play is about existentialist questions concerning the different emotions people have around loneliness. At the same time, as we live in a highly individualized day and age I experience that people have more and more lost touch with themselves. The characters in the play are lacking, and looking for, close contact and understanding both with others and themselves.
In addition to me working both as a director and actor these days, I used to be member of a rock band. The experiences from the rock concerts have made me interested in extrovert and intense visuals for the theatrical stage. Before I began directing myself I often used to think when watching a play: Yes, I understand what they are doing. I understand it. It is intellectual, but somehow I am not moved by what they are saying, nor doing, on stage.
In my plays I try to knit together large and expressive emotions at the same time as I reduce everything else to be backbound to its very core and essence. In this way the acting can be accentuated to the point of resembling a rock concert. It is also because of this that i backbind my characters in the play. A powerful energy is created when the large and expressive is balancing in between what you want to do and what you can do.
I work the same way with sound. I find a tune for the play and pull out the basic harmonies out of it in order to create an atmospheric sound that then loops throughout the play. Just like in a rock concert I charge the stage with expressions. Rock musicians are hauling for the life of it and perform a ritual, a shamanic dance. It is that sensation that I am after as well.

UCT: In this play ten encounters between ten different characters take place. In what way have you here manifested their very essence?

Sunil Munshi: In all the ten meetings sex is somehow involved. The sex binds the characters together with each other, but not in a pleasurable way. Schnitzler's original script has an underlying thesis that we can free ourselves through sex. But I have created a show based on the opposite statement. I want to show people who are quite desperate, who no longer have any other way of reaching anybody but through having sex, that after the sex nothing has changed. In the original, the characters want to have sex, but here that is not the very core. Through cutting away the original's thirst for freedom a situation filled with more despair is portrayed. A situation where we never get to see the characters touch each other, except when they drag, fight, or wrestle each other. The question that out play asks instead is: What are we hoping for? What are we doing with our time here?

UCT: All the characters are of different ages. You are staging the play with only two actors both in their midlife. How does one notice the austere style in this choice?

Sunil Munshi: Age in terms of a number that we have doesn't really mean anything to me. Youthful is something that you are. In the play youthfulness is portrayed through a higher inner tempo and perhaps a naivete. We have all once been young. In the same way we all become older. But when you get older you don't have to become less youthful. Tytte Johnsson plays five different women and Göran Engman plays five different men -in different ages. All the persons are different, yet they are all perfect on the surface but chaotic on the inside. They have a basic costume and from that we mix the style from the beginning of the 20th century to modern days. Their long experience professionally, and from life, is a strength in all of their parts. Their expression is clear and specific and even here we have worked on peeling off all which would not communicate as youthfulness, or high age. Their span as actors can also be noted and works well within the concept of a arenalike stage, where the audience can see them from all angles. Even their backs tell a story.

UCT: You mentioned the arena like stage. How does it work within the overarching scenography of a clean and stylized play?

Sunil Munshi: The arena stage works like a boxing rink in this play. The play is about the characters' fight about each other. The sound is placed right above them, right above the mat where the boxing game goes on. In the end there is only one hope left between the characters. The only prop we have left is an altar. Or is it an obduction table? For me it is all about driving the question to its very core: What are we doing with our lives? What do the encounters we have look like? Where is god? Where is the divine? In what or with whom do I find that which I seek? There are no simple questions. The questions urge me to direct. To get to dissect the needs of human beings. The play itself encircles the question: What kind of meeting can we create between humans? And what do we dare to hope for?